Social and retail: Five tips for an effective social strategy for retail
Even in the retail sector, social media is an extraordinary business opportunity: they let you stay in touch with customers, observe their most genuine tastes and behaviours, talk to each other daily and display yourself.
Yet, many merchants still struggle to throw themselves into the web: they consider social networks too complicated to use, not very useful for their work and too time-consuming (i.e. they require too much effort).
In 2021 there is no more time for indecision: those who are present on the web and social networks will have some chance of surviving the changes and waves of restrictions that are announced, while those who remain offline will risk being forgotten.
It's time to act: here are five tips to plan a winning digital strategy for retailers, capable of actually reaching and intriguing customers, inviting them to make purchases.
1. Video, what a passion!
They are fast, engaging, user-friendly, often fun, sometimes useful and instructive: an increasing number of users on social networks love watching videos.
If you want to get noticed online, you cannot resist this new trend: arm yourself with your smartphone and film what best represents your business that may interest your target customer. Do you have a clothing store? You could propose some unboxing videos of the latest arrivals in the store, present the garments of a new collection by wearing them, parading and filming everything.
Do you have a perfumery? Why not create make-up themed video tutorials with the staff?
Do you work in the food sector? The videos of recipes and advice for dishes from real chefs are always highly popular!
In short, there are countless ideas, as well as platforms where you can publish. Choose the ones where your target spends their free time: if you turn to the very young, you will necessarily have to land on TikTok, while if you have a more mature target the suitable social places are Facebook and Instagram.
2. Edutainment: educating, having fun!
Who said social media is just a waste of time? On the contrary, digital channels are increasingly turning into educational platforms, where users can find answers and suggestions of all kinds.
On social media companies or shopkeepers can take on the role of experts and consultants, providing information and tips for every occasion.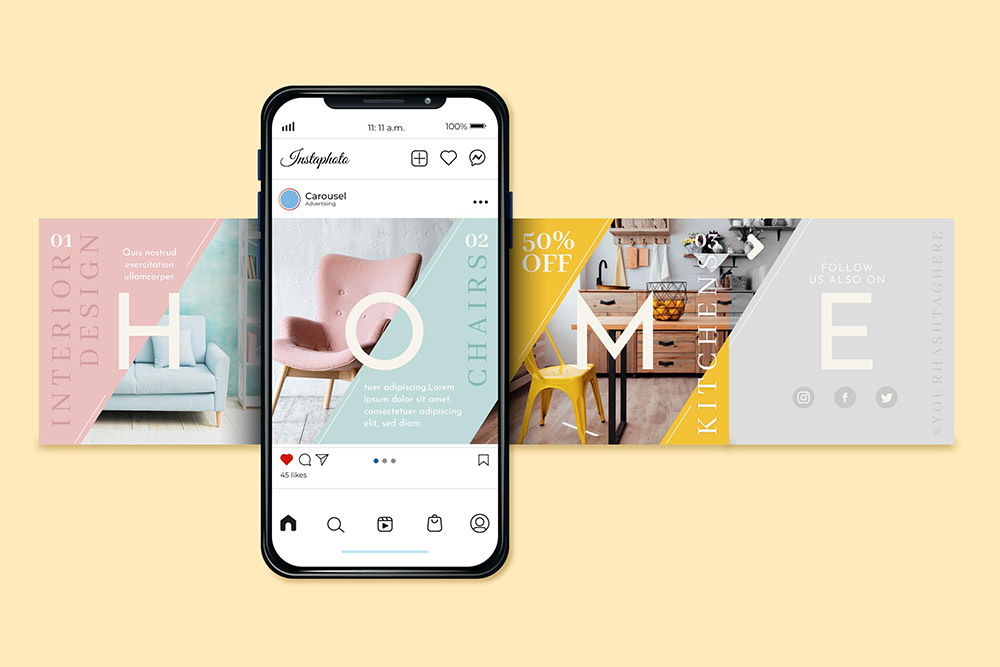 On Instagram, for example, carousel or scrolling posts are popular (image above): it's easy-to-scroll content, ideal for transmitting information material for educational purposes, stimulating more engagement and interactions at the same time.
Also on Instagram, guides are very strong: lists of suggestions similar to mini-blogs, that customers love consulting and sometimes sharing on their social pages, thus amplifying the visibility of the creators. What can they talk about? Everything: from travel and tourism advice to ideas for body care or home care to yoga exercises for relaxation. Why should you identify a topic that is close to your business and interesting for the target audience, and try to create some? Because they involve users more carefully and push them to pay more attention, going beyond simple page scrolling.
3. A meme to laugh at
2020 was a year scarred by strong emotions and a lot of tension: understandably, we went in search of a bit of lightheartedness at least on social networks. The explosion of memes is justified: witty contents that combine famous images with popular phrases, creating a comical result that will conquer the spotlight also in 2021.
Why do brands like them? Memes allow you to transfer the values of the brand in an ironic and smiling way because they know how to get noticed and above all they lend themselves to becoming super viral.
4. Social and retail: All live
Unable to live a physical and real everyday life, we were forced to move to virtual places: we had parties on Zoom, we announced important communications on Instagram TV (IGTV), we went to the theatre via Twitch.
Even for a brand or a sign, being live today is essential to capture the desire for involvement and life of the people, who despite everything are imprisoned at home.
Live video platforms respond to the desire to bring the community together, to participate in great events, to communicate with many people without leaving home.
Take advantage of live streaming channels to connect with customers and followers, offering them a moment of leisure: you can organise live events (for example, a public reading of a few pages of a book by the author, if you own a book shop), a contest (like a challenge between two pastry chefs, if you have a pastry shop), tutorials (some design lessons, if you are an architect) or create real shows.
When it comes to imagination, the sky is the limit!
5. Stories are great protagonists
In addition to posts and "traditional" social content, almost all platforms allow you to share "hit and run" content in real-time: they are the stories, often videos – but also static images – visible to users for only 24 hours. Why are they liked so much that they have won the attention of over 500 million users a day around the world? Because they seem more authentic than classic posts and are perfect for talking about the most immediate implication of everyday life.
Companies and retailers can use them to their advantage to get even closer to the community, becoming part of their day: use them to get the news out about the latest arrivals, to reveal the staff habits at the point of sale, to provide advice to users, to give last-minute communications such as an extraordinary store opening. Remember to always repost the contents of users who, by citing you in their stories, narrate their experience with your brand: visibility is guaranteed!